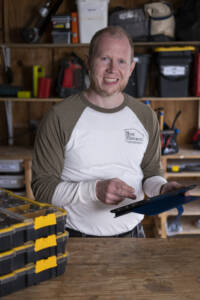 Hello. My name is Lightning Atkinson, and I founded House Specialties during the early days of the Corona virus pandemic. 
The COVID-19 shut-down forced all of us to stay home a lot more than we used to. We had to look at these walls and cook in this kitchen and sit in this back yard a lot more than we ever had before. This brought about a growing need in our communities for home repair services. My friends and neighbors didn't want to spend $50,000 on a new kitchen, but they did want to replace the garbage disposal that hadn't worked in 3 years, fix the gate, and hang some artwork on the walls. 
The Corona virus also awakened in our society a hunger to do right by the people around us. My wife was an ER nurse on Chicago's north shore. The outpouring of gratitude for her profession was tremendous. In an environment of mass lay-offs and instability, we all feel a little more connected and responsible for those close to us. 
The growing need for skilled trades work and the increased awareness of our shared human connection made this the right moment to start House Specialties. I had recently come out of a corporate job as National Director of Operations for a company with 10 branch offices. Before that I have a long history of entrepreneurship. I knew that if I ever started another business it would be built on trust. That's what House Specialties is about. 
We earn the trust of our clients by providing high-quality work, telling the truth, respecting our customers' time and their homes, going above and beyond, not accepting projects that we can't do with excellence, and being responsive to our customers needs. We become the trusted advisor for your home, so we will be your first call for decades to come.
House Specialties earns the trust and loyalty of our employees by offering training (not just in trades skills but also in business management, interpersonal communications and life skills), advancement opportunities, living wages, PTO, health benefits, and rewards. We home-grow our employees from entry-level whenever possible, and hope to soon offer internships and learning opportunities in conjunction with area schools. 
I will be the first to tell you that there are many individual handymen than are cheaper than House Specialties. But, we're not just a guy in a van who can figure out how to fix things…this is an intentional business–built on trust–that will be here for years to come. If that is your flavor, I hope you will give us a call. 
House Specialties tackled my "to do list" with ease, precision, and care. The quality of work exemplified fine craftsmanship throughout the entire time they worked on the projects. While the work was being done I was kept apprised and asked for input or clarification. When the projects were complete, House Specialties cleaned up thoroughly. Another plus, House Specialties was prompt on the job, communicated digitally alerting me of the time of arrival. I highly recommend House Specialties for home improvement projects, and will call them again when more work needs to be done. This company follows COVID 19 protocol.
This was literally the best experience I've had with any handyman/contractor. They came out and talked me through several options (correcting some SERIOUS issues that my home inspector uncovered when we bought the place), offering suggestions that made my ideas better. They were prompt with everything and really patient as I kept flip-flopping on the work to be done (we probably had 3-4 revisions to the quote). I like the easy-to-use online platform they use for all the quotes, notifications, invoicing, etc. Most of the contractors I've used in the past who say something like, "Eh...it's about $1,500 of work" and that's the quote...they write it on a pad of paper and that's the invoice. These guys are professional, but also personable and available.
What a great day of getting a whole list of projects taken care of by the team from House Specialties. Work included: long overdue tile grouting in two bathrooms; various electrical issues solved; vacuuming out and replacement of a gable vent that had been damaged by birds; and a few other jobs that had been on our list for a while. Hard-working, cleaned up after themselves, and checked in with us when they noticed something we hadn't mentioned, or had an idea of how to save us a little money along the way.  When it comes time to sell our home, this is absolutely the team that will get us ready for listing!
(Appropriate COVID-19 measures in place the entire time Lightning and Mike were in our home.)
As we were preparing to put our house on the market, we contacted House Specialties and bought their "pre-listing package." We were shocked by the huge difference power washing made in the overall appearance of the house—it absolutely sparkles. We are delighted that when a prospective buyer pulls up, they will have an overall impression of an attractive, well-maintained house. It won't be a "wow, it's been power washed" response, but rather "this is a nice looking, well-maintained house." The floor plan creation was also great – prospective buyers can only get so much information from pictures – a floor plan augments the pictures with facts. Throughout the process the professionals at House Specialists were responsive to our needs and very easy to work with. We'll be using their services at our new home.
Attention to detail. That's what this company is great at. They built custom wooden framing at my storefront office to support digital signage in my front windows. Their carpentry work was rock solid and perfect down to the 1/8 of an inch, and the paint job looked like a custom car. They accommodated my schedule and worked with masks on for two days in the heat. They were quiet and respectful of our ongoing business and beyond clean. When they left my office was cleaner than when they arrived! Two thumbs up for House Specialties.
I highly recommend and will be using Lightning and crew again & again.
We hired Lightning and his crew to relocate a crowded electrical box in our basement. They did a fantastic job of rerouting the conduit and working around all the other mechanicals. The job took two days, and they let us know in advance that several circuits were going to be disconnected overnight. Before they left at the end of the first day they ran extension cords to power our basement freezer and other essential items. It's that consideration, and the quality of the work, that makes me recommend House Specialties without hesitation.