Skilled trades for small home projects
Serving Chicago's far north neighborhoods and the North Shore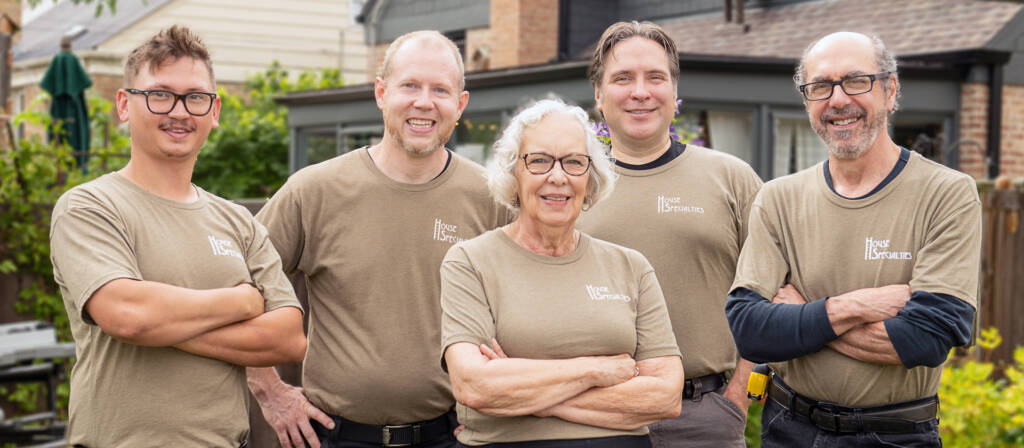 This is what we do
Our tag line says it best. We do skilled tradeswork for small home projects. We don't do full scale remodeling or additions. We don't do roofing, siding or gutter installation. We specialize in projects that take a few days or less. That means we are flexible and more available for you. We're not trying to squeeze in your ceiling fan installation around the gigantic kitchen remodel we're doing in a town an hour away. We can often schedule and complete your work within a week.
Project-based pricing
Whenever possible, we prefer to quote a price for a job rather than charge by the hour. Contractors who charge by the hour are subtly making the customer assume the risk for the project. If the work takes longer than expected the customer spends more, and the contractor makes more. The contractor is the professional and should know how long a job will take.
Sometimes there are too many unseen components at the beginning of a project to give a rock-solid price. When this is the case, we will provide a range and discuss with the client the variables that affect the price.
We are a business,
not just a guy in a van
House Specialties is a purpose-built company…we have a team, we have a website, we train our staff, we wear uniforms, we have a tablet-based computer platform, we have organizational structure and operating procedures, we have goals for customer satisfaction and business growth, we offer on-line payment and electronic quote revisions, we have liability insurance. House Specialties serves clients who value a well-run small business and expect professionalism and excellence on every job.
Lightning and Bill were fantastic! They were on time, dependable, personable and did too notch, superb work in allocated time! They were organized and cleaned up afterwards!
I would highly recommend them.
After having 2nd rate work done on a switch & plate assembly by another company, I filled out an online form & called House Specialties. Lightning came over to appraise & estimate it all; and my wife was offered options & questions were answered. Expectations were exceeded!
Lightning and Spencer were highly professional and helpful. We now have two very effective motion detector outdoor lights, which keeps things dark most of the time which is better for our insects and environment. So grateful to have them to assist when the Honey-do list starts to build!
I had a long "honey do" list and House Specialties took care of almost all of it in a short and very affordable visit. They did a great job with some minor repairs, gutter cleaning, Ethernet wiring, and are giving us a quote for some shelving and other repairs.
Quick, efficient, got the job done. I'll definitely be calling them back!
House Specialties is the drama free, professional experience that we've been looking for. They came out when they said they would, did the work we asked them to do, charged us exactly what they quoted, and cleaned up before they left. And on top of all that, they were just super friendly and kind. We will definitely be calling again.
I didn't realize how many small annoyances about my house I had come to accept until Lightning walked through it with me and offered to fix them all. The broken drywall behind the door knob, the sagging step on the porch, the green mildew on the front siding, the door that didn't close all the way...even the ugly plastic grocery bag that has been stuck in a tree branch for the past 3 years. House Specialties took care of all of it and more. I feel a real sense of relief and even joy as I walk around my house and things work. The House Specialties team respected our family and home, communicated well, and did great work.
House Specialties tackled my "to do list" with ease, precision, and care. The quality of work exemplified fine craftsmanship throughout the entire time they worked on the projects. While the work was being done I was kept apprised and asked for input or clarification. When the projects were complete, House Specialties cleaned up thoroughly. Another plus, House Specialties was prompt on the job, communicated digitally alerting me of the time of arrival. I highly recommend House Specialties for home improvement projects, and will call them again when more work needs to be done. This company follows COVID 19 protocol.
This was literally the best experience I've had with any handyman/contractor. They came out and talked me through several options (correcting some SERIOUS issues that my home inspector uncovered when we bought the place), offering suggestions that made my ideas better. They were prompt with everything and really patient as I kept flip-flopping on the work to be done (we probably had 3-4 revisions to the quote). I like the easy-to-use online platform they use for all the quotes, notifications, invoicing, etc. Most of the contractors I've used in the past who say something like, "Eh...it's about $1,500 of work" and that's the quote...they write it on a pad of paper and that's the invoice. These guys are professional, but also personable and available.
What a great day of getting a whole list of projects taken care of by the team from House Specialties. Work included: long overdue tile grouting in two bathrooms; various electrical issues solved; vacuuming out and replacement of a gable vent that had been damaged by birds; and a few other jobs that had been on our list for a while. Hard-working, cleaned up after themselves, and checked in with us when they noticed something we hadn't mentioned, or had an idea of how to save us a little money along the way.  When it comes time to sell our home, this is absolutely the team that will get us ready for listing!
(Appropriate COVID-19 measures in place the entire time Lightning and Mike were in our home.)
As we were preparing to put our house on the market, we contacted House Specialties and bought their "pre-listing package." We were shocked by the huge difference power washing made in the overall appearance of the house—it absolutely sparkles. We are delighted that when a prospective buyer pulls up, they will have an overall impression of an attractive, well-maintained house. It won't be a "wow, it's been power washed" response, but rather "this is a nice looking, well-maintained house." The floor plan creation was also great – prospective buyers can only get so much information from pictures – a floor plan augments the pictures with facts. Throughout the process the professionals at House Specialists were responsive to our needs and very easy to work with. We'll be using their services at our new home.