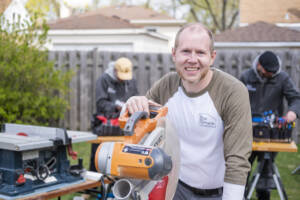 UPDATED 12 June 2023
Good morning, Lightning here. I'm the owner of House Specialties. The pandemic seems to be fading into the rearview mirror, but continuing to be mindful of our health, and the factors that affect others' health is responsible citizenship.
I know that inviting someone into your home to do work is no small thing. As a company we work hard to earn the trust of our clients because we know that home is sacred space. Being invited and welcomed into someone's home—even as a contractor—is not something we take lightly. And this has been doubly true during a global pandemic.
Our commitments to our customers and our requests of them:
Masking. Our team members will correctly wear a mask or face covering over their mouth and nose whenever they are working indoors at a client's home. They may take more frequent outdoor breaks for fresh air and hydration throughout the work day.

Distancing. Keeping appropriate distance inside and while working can be very challenging. Our team members will do their best to maintain distance from you and each other. We hope that you will respect our crew members by giving them plenty of space to work.

Believing the best. When communication becomes difficult because of masks and other precautions, we will choose to believe the best about our customers, vendors and suppliers. We hope you will give us the benefit of the doubt if there is a misunderstanding along the way. Please believe that we are genuinely smiling under our masks, even if you can't see our mouths. 
Everyone's home situation and comfort-level is different. If you have any concerns about our protection measures or company policies related to covid-19, please email or call us. The contact info is at the bottom of every page on our website. I will get back to you personally to answer any questions you have. Many of our customers over the past three years have initiated conversations with me about their specific circumstances and concerns, and I am so grateful. I value the opportunity to have meaningful dialog and address any concerns as early as possible. With these pro-active customers we have collaboratively found positive ways through a huge variety of situations.
Peace and health to you and those in your household,
Lightning
House Specialties is the drama free, professional experience that we've been looking for. They came out when they said they would, did the work we asked them to do, charged us exactly what they quoted, and cleaned up before they left. And on top of all that, they were just super friendly and kind. We will definitely be calling again.
I didn't realize how many small annoyances about my house I had come to accept until Lightning walked through it with me and offered to fix them all. The broken drywall behind the door knob, the sagging step on the porch, the green mildew on the front siding, the door that didn't close all the way...even the ugly plastic grocery bag that has been stuck in a tree branch for the past 3 years. House Specialties took care of all of it and more. I feel a real sense of relief and even joy as I walk around my house and things work. The House Specialties team respected our family and home, communicated well, and did great work.
House Specialties tackled my "to do list" with ease, precision, and care. The quality of work exemplified fine craftsmanship throughout the entire time they worked on the projects. While the work was being done I was kept apprised and asked for input or clarification. When the projects were complete, House Specialties cleaned up thoroughly. Another plus, House Specialties was prompt on the job, communicated digitally alerting me of the time of arrival. I highly recommend House Specialties for home improvement projects, and will call them again when more work needs to be done. This company follows COVID 19 protocol.
This was literally the best experience I've had with any handyman/contractor. They came out and talked me through several options (correcting some SERIOUS issues that my home inspector uncovered when we bought the place), offering suggestions that made my ideas better. They were prompt with everything and really patient as I kept flip-flopping on the work to be done (we probably had 3-4 revisions to the quote). I like the easy-to-use online platform they use for all the quotes, notifications, invoicing, etc. Most of the contractors I've used in the past who say something like, "Eh...it's about $1,500 of work" and that's the quote...they write it on a pad of paper and that's the invoice. These guys are professional, but also personable and available.
What a great day of getting a whole list of projects taken care of by the team from House Specialties. Work included: long overdue tile grouting in two bathrooms; various electrical issues solved; vacuuming out and replacement of a gable vent that had been damaged by birds; and a few other jobs that had been on our list for a while. Hard-working, cleaned up after themselves, and checked in with us when they noticed something we hadn't mentioned, or had an idea of how to save us a little money along the way.  When it comes time to sell our home, this is absolutely the team that will get us ready for listing!
(Appropriate COVID-19 measures in place the entire time Lightning and Mike were in our home.)
As we were preparing to put our house on the market, we contacted House Specialties and bought their "pre-listing package." We were shocked by the huge difference power washing made in the overall appearance of the house—it absolutely sparkles. We are delighted that when a prospective buyer pulls up, they will have an overall impression of an attractive, well-maintained house. It won't be a "wow, it's been power washed" response, but rather "this is a nice looking, well-maintained house." The floor plan creation was also great – prospective buyers can only get so much information from pictures – a floor plan augments the pictures with facts. Throughout the process the professionals at House Specialists were responsive to our needs and very easy to work with. We'll be using their services at our new home.
Attention to detail. That's what this company is great at. They built custom wooden framing at my storefront office to support digital signage in my front windows. Their carpentry work was rock solid and perfect down to the 1/8 of an inch, and the paint job looked like a custom car. They accommodated my schedule and worked with masks on for two days in the heat. They were quiet and respectful of our ongoing business and beyond clean. When they left my office was cleaner than when they arrived! Two thumbs up for House Specialties.
I highly recommend and will be using Lightning and crew again & again.
We hired Lightning and his crew to relocate a crowded electrical box in our basement. They did a fantastic job of rerouting the conduit and working around all the other mechanicals. The job took two days, and they let us know in advance that several circuits were going to be disconnected overnight. Before they left at the end of the first day they ran extension cords to power our basement freezer and other essential items. It's that consideration, and the quality of the work, that makes me recommend House Specialties without hesitation.